Long before the days of highlight and contour, instagram models, and the infamous Kardashians, we had five women in the R&B music industry who gave us great fast songs with catchy hooks that were timeless and will always be some of our favorite party, get up and dance throwback songs. In 2001, we lost Aaliyah, a.k.a Babygirl or Princess of R&B, whichever you prefer, and Beyonce had not yet released her first solo album until summer 2003, but the early 2000s R&B divas did not leave us empty and longing during that time.
Amerie
Now I know you guys remember her. Amerie gave us the R&B dance song '1 Thing,' on her second album, "Touch" The lyrics and beat of the song were already impeccable but Amerie took it to another level with her voice. She was full of excitement and made you want to get up and dance as soon as the song starts with the very in your face "Ohhhh….!" This song is certified gold, peaked at number 8 on the Billboard Hot 100, and was nominated for two Grammy's. This song went on to become Amerie's biggest hit to date and is definitely deserving of a place in the top songs of the 2000s. She is one of the few who can make quick, out of breath singing just work. And she had a BOMB music video to go with it.
Mya
Mya, Mya, Mya. We all wanted to be as confident as Mya was on "My Love is…Wo." Mya delivered the original "Feeling Myself." With a song as huge as this one, it's very admirable that she was still able to show off her vocal skills. It spent 4 weeks at number 13 and was Mya's 5th Top 20 hit. We've all heard it, along with her other popular songs, 'Case of the Ex" and "Lady Marmalade", which received a Grammy. She has an upcoming album "Smoove Jones" that is to be released this Valentine's Day.
Christina Milian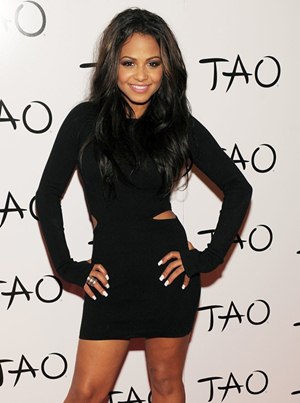 She's not just Weezy's EX…..Christina taught us all how to "Dip it low, bring it up slow, roll it all around, pop it out, arch ya back girl…" Despite the million dollar lawsuit that surrounded this track, it is Christina's most popular song and the reason that many of us know who she is. This track is undeniably amazing and a huge hit. It was the lead single from her second album "It's About Time", and was certified gold. The choreography in the music video was soooo on point, too!
Cassie
When you think of the first person who started the shaved side trend, it is none other than Miss "Baby tell me if you like it…" herself, Cassie! She rocked that look oh so effortlessly and inspired so many others to try it. More important than her hair, was her track, "Me & U." This song dominated radios and clubs, and is still the jam today. We all know the beat and the words, too. It debuted at number 3 on the Hot 100, staying there for 7 weeks, went platinum, and is featured in numerous video games including  DANCE!, Saints Row 2, and Grand Theft Auto V. The success of this song is no surprise to me, she was signed to Bad Boy and for now is still linked as Diddy's current love interest.
Ashanti
Awww Baby… it's hard not to think of Ashanti when you see that. Ashanti gave us so, so many good songs. She is best known for her song Foolish, that earned her a Grammy nomination and a #2 single, was in the Top 20 Most Successful Songs of the 2000s by Billboard, and apart of the amazing unofficial duo, Ja Rule and Ashanti. In my opinion, she should have become much bigger than she is. They just don't make them like her anymore. Her music was so smooth.